Image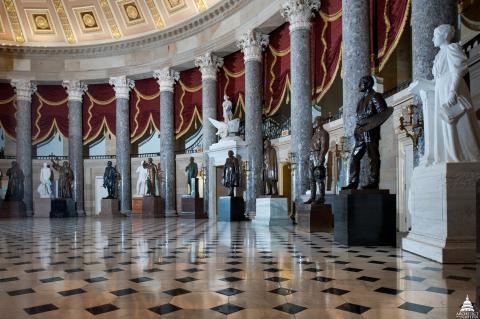 Image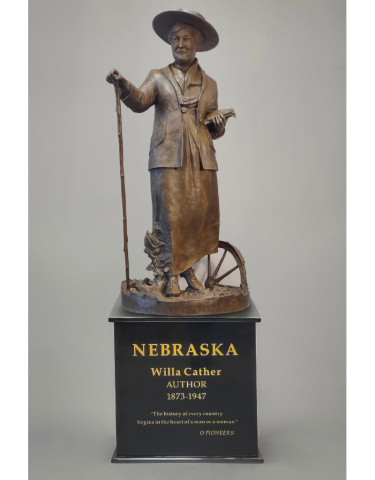 Willa Cather Statue Unveiled in National Statuary Hall of the U.S. Capitol
First Pulitzer Prize Winner and Twelfth Woman in the Collection
A bronze sculpture of Willa Cather by artist Littleton Alston was dedicated and unveiled in Statuary Hall of the U.S. Capitol on Wednesday, June 7, at 11:00 a.m. ET.
Cather is the first Pulitzer Prize winner and the twelfth woman represented in the National Statuary Hall Collection. She joins Ponca Chief Standing Bear, installed in 2019, as one of two new sculptures that represent Nebraska. The installation ceremony occurred exactly six months before her 150th birthday on December 7, an event being celebrated throughout the year and across the country. The occasion also comes in the centenary year of her Pulitzer Prize for One of Ours.
Live viewing parties were held at the Nebraska History Museum in Lincoln and at the National Willa Cather Center's Opera House in Red Cloud. Following the livestream at the Nebraska History Museum, Dr. Nathan Tye from the University of Nebraska at Kearney spoke on "Willa Cather as a Nebraskan." In Red Cloud, guided tours of Cather historic sites were offered at 11:00 a.m., and 1:00 and 3:00 p.m. 
World renowned author Willa Cather spent her formative years in Red Cloud and graduated from the University of Nebraska-Lincoln in 1895. She once said in an interview, "I had searched for books telling about the beauty of the country I loved, its romance, and heroism and strength and courage of its people that had been plowed into the very furrows of its soil, and I did not find them. And so I wrote O Pioneers!." This novel and others set in Nebraska, including My Ántonia and A Lost Lady, helped to establish Cather's career and introduce readers to a complex time in Nebraska history.
Littleton Alston, associate professor of sculpture at Creighton University in Omaha, was selected from over seventy artists to create the Willa Cather statue. Alston is the first African American artist to have a sculpture in the National Statuary Hall Collection.
"It was an immense honor to create the Willa Cather sculpture for Statuary Hall, and I'm thrilled that Nebraska will finally have a literary heroine representing our state in the U.S. Capitol," said Alston. "I've come to know some remarkable people over the course of this project, including individuals who have volunteered their services for the past three years to bring the unveiling of the statue to fruition."
Image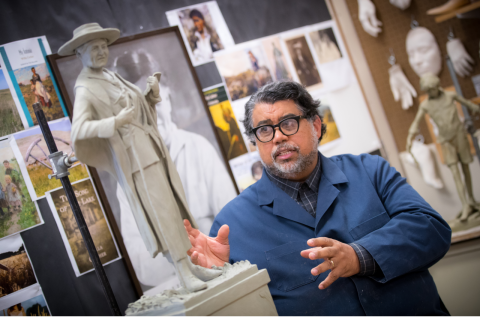 Ashley Olson, executive director of the National Willa Cather Center added, "Willa Cather was always a champion for Nebraska. While her writing spans settings that include the desert Southwest, seventeenth century Quebec, and the Shenandoah Valley of Virginia, among others, many of her most well-known stories are about Nebraska and its people. I hope her representation in our U.S Capitol will encourage even more readers to discover the beauty and complexity of her writing."
The late Ron Hull, longtime champion of Willa Cather and chair of the Willa Cather National Statuary Hall Selection Committee, remarked during the design process, "Littleton Alston has created a work of art: writer Willa Cather is at work, walking with quickened steps through the Nebraska landscape. Her pen is in hand with her head held high, while her eyes capture thoughts of a story being created in her mind. This sculpture will be a worthy addition to National Statuary Hall and Cather a fine representation of our Nebraskan ethos."
Jill Dolberg, interim director and CEO of History Nebraska added, "History Nebraska has been proud to host and support the Willa Cather National Statuary Hall Committee's work over the last five years. I am thrilled that Willa Cather, an author who explored both the meaning and place of gender roles, now represents Nebraska at our nation's Capital. Having her share space with our other state statue of Standing Bear, a Ponca champion for Civil Rights, speaks to the diversity of Nebraska and our state's place in the nation's history."
University of Nebraska-Lincoln faculty members Andrew Jewell and Melissa Homestead praised Cather's selection as a representative of Nebraska history and culture. 
"Willa Cather very explicitly represents Nebraska and Nebraskans in multiple works," said Jewell, co-director of UNL's Center for Digital Research in the Humanities and advisory editor to the Cather Archive. "She is a key voice in telling the story of our state. To have her statue alongside that of Chief Standing Bear in the U.S. Capitol reflects the complex history of Nebraska. Their stories represent very different experiences and, as a Nebraskan, I'm thrilled that they will be there together." 
Homestead, professor of English and director of the Cather Project at the University of Nebraska-Lincoln, described Cather as one of the university's most distinguished graduates. "She attended at an exciting time with interesting people who went on to do interesting things and the university is featured in some of her novels," Homestead said. "Even after she left, she was called to represent Nebraska and she spoke to the world as a Nebraskan." 
—Watch a recording of the ceremony and scroll down for a gallery of images and more information—
---
The Congressional Statue Dedication Ceremony in honor of Willa Cather of  Nebraska • Statuary Hall, United States Capitol, Wednesday, June 7, 2023, 11:00 a.m.