Image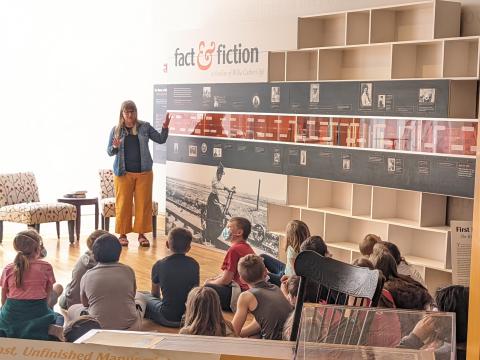 Back to School and Back to Cather
While the pendulum swung from a normal, traditional school year all the way to the pandemic-related restrictions of last year, this year we are swaying in a delicate equilibrium between offering in-person experiences as well as virtual activities for students and educators.
Teachers are welcome to bring their classes to Red Cloud for in-person, guided tours of our sites and center, but they can also make use of our recently developed smartphone and web app, virtual tour, as well as the new collections pages on our website, to learn about Willa Cather and Red Cloud. There are even optional student assignments located in the app!
We have also developed new activities for elementary students that can take place at our center as part of a tour or online via Zoom. "Guess the Gadget" introduces students to archival work and pieces from our collection, and "Letter Detective" involves deciphering Willa Cather's very tricky handwriting. We are also available for "Ask an Expert" and other customized sessions on Zoom.
To educators we offer:
Virtual Programs, including a link to our app (under the LEARN tab on this website)
Zoom webinars for your class with our expert education staff on everything Willa Cather
Resources for teaching Cather's texts (under the LEARN tab on this website)
Updates of mini-lessons and activities on our Educational Resources page
To students and educators we offer important scholarship programs each year:
Arts and cultural programming at the Red Cloud Opera House this fall:
We want to hear from you!
Please complete our online Educator Needs Assessment survey to help us plan future programs and resources. You will also receive 10% off in our bookstore for participating! And stay tuned later this year and in 2022 for more educational resources, including additional virtual galleries like this one and free online events!
It is our goal to bring Willa Cather and Red Cloud to your students and classroom experience in any way that we can!
---
For more information or to customize a virtual or on-site experience for your students, contact Rachel Olsen, Education Coordinator rolsen@willacather.org, 402-746-2653