Image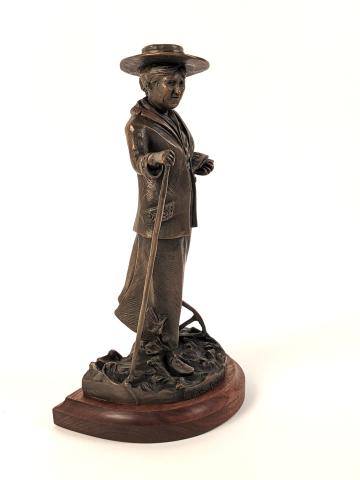 Image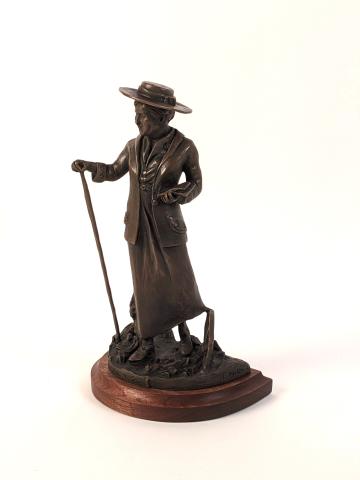 Image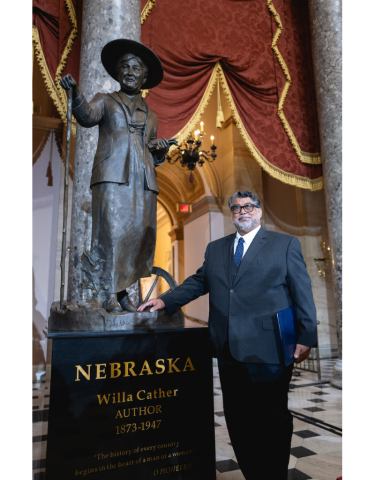 Own A Piece of History: Willa Cather Sculpture
Signed by sculptor Littleton Alston
The Willa Cather Foundation is pleased to announce an opportunity to own a copy of the sculpture of Willa Cather created by artist Littleton Alston that was unveiled in the National Statuary Hall Collection of the U.S. Capitol on June 7, 2023. The bronze sculptures are twelve inches tall, mounted on a polished walnut base, and each individually signed by the artist.
Cather is portrayed hiking through the open prairie with a walking stick, wearing a brimmed hat and clothed in the style of women's sport suits of the day. In addition to taking inspiration from archival photographs of Cather during the height of her career in the 1920s, artifacts from the National Willa Cather Center's museum collection were also incorporated into the design. These include Cather's gold snake ring, and a turquoise jacket that was a gift from her editor, Alfred Knopf, and his wife Blanche.
"I've portrayed Cather as a mature artist in her prime," Alston said of his final design. "I sought to capture Willa Cather's spirit, coupled with her achievements and aspirations in this sculpture."
Willa Cather is one of twelve other women represented in the collection—and the first Pulitzer Prize winner—while sculptor Littleton Alston is the first African American artist to have a piece in the National Statuary Hall Collection. Read more about—and view—the June 7, 2023 unveiling ceremony at the U.S. Capitol.
The Willa Cather Foundation has been named the exclusive retailer for the 1-foot sculptures by the Willa Cather National Statuary Hall Committee.
Proceeds of all sales will support the purchase of a full-scale edition of the original bronze to be placed in the National Willa Cather Center in Red Cloud, Nebraska.
—To place an order, please click HERE—
12" bronze sculpture
Polished walnut base
Signed by sculptor Littleton Alston
NOTE: $1,200 of the $3,000 price is tax-deductible as a charitable contribution to the National Willa Cather Center. 
About the artist
Littleton Alston maintains a sculpture studio in Omaha, where he is also Associate Professor of Sculpture at Creighton University. His sculptures are included in public and private collections throughout the country, and his work has been exhibited nationally and internationally. His artwork ranges from figurative bronze sculptures to stainless steel abstract works and most recently to large metal and assembled helmets sculptures. Some of his recent public art commissions include sculptures for the Heider College of Business at Creighton University in Omaha, Werner Park in Papillion, Dreamland Park and Martin Luther King, Jr. Plaza in Omaha, the Nebraska State Capitol in Lincoln and the World Food Prize Foundation Headquarters in Des Moines, Iowa. Littleton has been an artist in residence at the Bemis Center for Contemporary Arts, the Martine Vaugel Studio in France, and most recently, at the International School of Drawing, Painting and Sculpture in Montecastello di Vibio, Italy. He holds a B.F.A. from Virginia Commonwealth University in Richmond, Virginia and an M.F.A. from the Maryland Institute College of Arts Rinehart Graduate School of Sculpture in Baltimore. In 2019, he won the Willa Cather National Statuary Hall Competition, from more than 70 applicants, to create a portrait statue of Cather that was unveiled in the National Statuary Hall Collection at the U.S. Capitol Building on June 7, 2023.