Image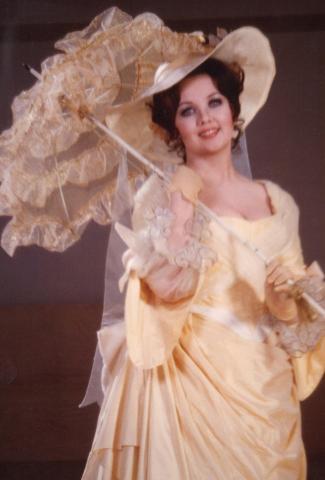 A Visit with Sarah Arneson
Red Cloud's Very Own Operatic Soprano
Sarah Arneson was born and raised in Red Cloud and has returned many times to visit—and to perform. In this 20th anniversary celebration year of beloved performances, we are delighted to welcome her again to the Red Cloud Opera House stage on September 1. In addition to program notes on selections related to Cather's works, this recent interview reveals more about Red Cloud's own special artist's musical interests, highlights of her career, and the origins of her craft.
---
An artist's beginnings
Sarah Arneson was born and raised on a farm near Inavale, ten miles west of Red Cloud, where she would attend high school. Her great-grandmother homesteaded the farm in 1871 and the family were among the first settlers in Red Cloud. She recalls that she rode her pony to country school and her father taught her to shoot so well that she later won a medal in an Austrian shooting competition. 
"My parents worked and saved so that I could go to college for which I shall be forever indebted," Sarah recalled. "I was cast in an opera at the University of Nebraska-Lincoln and fell in love with it." 
After college, Sarah won scholarships for her graduate studies at the University of Michigan. From there she went to Paris on a Fulbright and then to Vienna, where she first read Willa Cather's novel, The Song of the Lark. 
"That is when I realized Cather's interest in opera and became intrigued by the numerous coincidences of Cather's character, 'Thea' with my own."
Sarah knew Mildred Bennett in Red Cloud, who was her father's high school teacher and he admired her work as a Cather scholar. Mr. English was her high school music teacher. 
"He encouraged my singing when I thought it was nothing special. I was surrounded by good voices. I had classmates with lovely voices. My mother's family all seemed to have excellent voices. But it was my Aunt Ruth, whose voice was truly beautiful. Her unique sound never left my ear. I have been encouraged and helped by so many wonderful teachers, family, and friends. I am truly grateful."
Between 1998-2012, Sarah divided her time between Salzburg, Austria, and Boston, Massachusetts. During some of that time she was head of the voice department at Boston University where she taught and encouraged a variety of talented singers.
Opera returns to the Red Cloud Opera House stage
Sarah is a coloratura soprano —a type of operatic soprano voice that specializes in music characterized by great agility in runs, leaps and trills. Sfogato coloraturas, like Sarah, are fairly rare, and can easily achieve pitches above F6. These singers often become well-known for their ability to reach into the true altissimo register, which begins at G5.
The September 1 program will be a voice and violin recital, with accompanist Anne Hooper Webb. Sarah has observed that Cather uses the violin as a symbol for the homesickness of the European immigrants and it is also featured in the Cather short story, "Eric Hermannson's Soul." 
Sarah will begin her Red Cloud program with the aria from Handel's Messiah, "If God be for us, who can be against us?" in a voice and violin arrangement. This aria is indirectly mentioned by Thea in The Song of the Lark, since she often played an aria from it for her singers. 
These opera arias are also referenced, or specified, by Cather and included in her upcoming performance:
Grieg-Solveig's "Song from Peer Gynt" — referencing Norwegian immigrants as in Cather's

O Pioneers!

Dvorak's "Songs my Mother Taught Me" — Czech immigrants as in

My Ántonia

and Mr. Schimerda was a violinist in the Prague Orchestra

Massenet's "Meditation for Violin from Thais" —

One of Ours

includes a direct reference to this famous violin piece. David Gerhardt, Clive's commanding officer, was a famous violinist and based on a real person.

Ponce's "Little Star," a Mexican song — as in

The Song of the Lark

Flotow's "Last Rose of Summer"— a setting of the traditional Irish melody as in a letter of 1917, that Cather wrote to Meta Cather, praising a recording by Galli Curci, a famous singer of the time.

 
A live recording with Munich Gaertnerplatz theater of Wranitzky's opera, Oberon, in 1980. The composer was a contemporary of Mozart and possibly influenced Mozart's The Magic Flute. An aria sung by Sarah begins just after 34:00 and you can hear her hold a high G at 38:36!
 
Q&A with Sarah Arneson
Who or what fostered your interest in singing, and in opera?
My Aunt Ruth had a beautiful voice and sang like a lark; everyone in my mother's family had excellent voices, as well as those in my own. John English, my Red Cloud high school music teacher, recognized and encouraged my talent. John Zei, my voice teacher and opera director at University of Nebraska-Lincoln, and Eva Likova, my voice teacher for graduate studies at the University of Michigan. She was a great artist from Prague and sang in all the major opera houses of the world. 
How does performing in your hometown opera house compare to larger and more notable opera houses you've performed in?
The difference is in the size and opulence. The Detroit Opera, where I sang Adele in Die Fledermaus, is 2,700 seats. The Vienna State Opera, where I sang "The Queen of the Night" in The Magic Flute, is 1,700 seats. Mozart cast the same singer for "The Queen of the Night," who also premiered the role of Oberon.

What would you say to encourage younger audiences—or any first-time opera listener—to experience opera as an art form?
I would recommend that they listen first to the accessible operas, like Puccini's La Boheme, and then move on to Mozart. It is rather like going from wine to champagne.
What are common misconceptions about opera—and opera singers?
There have always been unpredictable and temperamental opera divas. Mozart wrote a charming opera with that very theme, The Impresario. I thoroughly enjoyed singing in a television broadcast of this one act opera.
For anyone who has never experienced an operatic performance before, or doesn't understand the concept, how would you explain it to them?
Hearing operatic voices live has a certain primitive and visceral appeal. It has to be experienced. It is truly unlike anything else.
Is there a Hamilton of the opera world in terms of popularity? If so, what might it be? [Perhaps Hamilton is like modern opera with its rap accessibility?]
Rap music is more spoken than sung. Opera explores the possibilities of the human voice. The range is also completely different. Crossover music is done frequently, but it is a category by itself, neither rap nor opera.
What are some of your favorite operas that you have sung in?
I particularly enjoyed being in Mozart's The Magic Flute and Giuseppe Verdi's Rigoletto. Being cast in the Vienna State Opera production of Richard Strauss's Die Frau Ohne Schatten ("The woman without a shadow"), with great legendary singers was also quite memorable. 
Are there any memorable performances you've had with other opera singers—or operatic experiences— that have stood out in your career?
I sang with Lucia Popp in Mozart's The Abduction of the Seraglio. She was a wonderful artist and singer. I went to Europe on a Fulbright to study at the Paris Opera Comique and made my debut as Olympia at the Vienna State Opera. Then I moved to Salzburg, where my husband and I taught at the famous music school, the Mozarteum of the University of Salzburg.
Is there anything else that you'd like to add?
Kate Quinn, a popular historic fiction writer, was my student at Boston University from her freshman year through her two Masters degrees in voice. She is a brilliant and talented young woman. Her new book, coauthored with Janie Chang, is called The Phoenix Crown and comes out February 13, 2024. It is set around the time of the great San Francisco earthquake in 1906 and the heroine is an opera singer. The plot is loosely based on my life growing up on a farm in Nebraska and of Norwegian heritage. Many aspects of my life paralleled Thea's in The Song of the Lark and her book reminds me of some of those parallels. [I was never a Wagnerian soprano, though!]
Thank you! We look forward to your homecoming and to your gift of classic opera on the Red Cloud Opera House stage in September!
---
You can purchase tickets at the Red Cloud Opera House in advance or on our website HERE. They are $20 in advance and $25 on the day of show.